Main Page
From Konfidi
Jump to navigation
Jump to search
Konfidi is a trust framework that uses topical trust values from a social network of authenticated people. When you see a document (e.g email, webpage) from someone you do not know, but he/she is in the network, Konfidi will compute an inferred trust value for you.
Currently, the only authentication/identity system supported is OpenPGP. We hope to add OpenID, DKIM and SPF soon. The first (and motivating) application is to filter email. You'll be able to set your client to accept all email from trusted senders and rigorously filter anything else.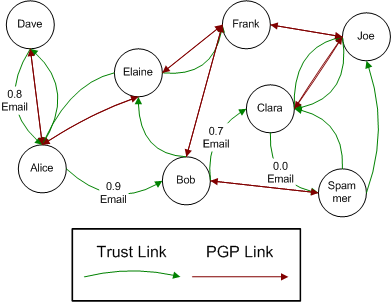 If Dave recieves an email from Clara, it will have a fairly high computed trust value (e.g. 0.8½×0.9½×0.7½=0.71) . An email from the spammer will not. Now imagine this network with everyone using it!
Hosted by: